Purchase
> select price
Let us create a custom design just for you!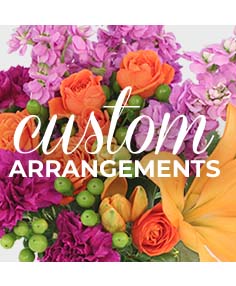 CUSTOM ARRANGEMENT
of Fresh Flowers
$58.00, $68.00, $78.00
Shown at $58.00
FLORIST CHOICE let us design a FLORIST CHOICE for you. Only the freshest premium flowers
If you don't find exactly what you are looking for in our gallery, please let us custom design an arrangement for you.
Feel free to call and discuss any special needs with our staff.
Buckets Fresh Flower Market and Florist has the largest florist selection of flowers in Abbotsford. Flowers are purchased bi weekly at the largest flower auction in North America, personally by the owner. Tropical flowers and speciality flowers are imported directly for our store. This ensures quality product.
We guarantee all our flowers. Most varieties have a vase life of approxiamtely 7+ days.
Dedicated delivery service primarily for our store , the ensures safe and fast arrival of your flower purchase.

Do It Yourself Event Flowers
Feel Creative?? Want to design your flowers for an event??
We have the largest selection of FLORIST FLOWERS in Abbotsford BC. We personally go to the flower auction and hand select the perfect flowers for your centerpieces.
Want help in the choosing of a design to compliment your decor?? we have friendly, qualified staff to guide you in the designing and flower selection.
Bulk buying of flowers is the most cost effective choice for a large event. We have a desigh class for every large event coordinator, to show you the best way to design your flowers.
This is what Buckets Flowers will do for you
1. Help with the design of your centerpiece
2. Buy the freshest flowers at a reasonble cost and any supplies that are needed
3. Rental of vases
4. Prepare and store your flowers until needed
5. Week of event have a design class to show you how to do your centerpiece
Call Buckets Flowers today. Choose us for the best flowers, and great customer service for your next special event. FLOWERS ARE THE BEST FROM A FLORIST SHOP...WE GUARANTEE IT. THATS WHAT WE DO!!!!!